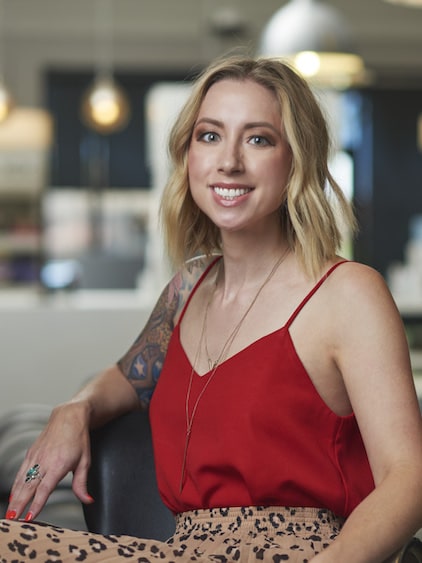 WELLA MASTER COLORIST
SHORT HAIR
Becky is a Wella Master Colorist who has a fun and unique style all her own. From her hair to her makeup and clothes, Becky looks like she walked out of the pages of her favorite magazine, NYLON. A knowledgeable and experienced stylist, Becky is one of the Rumors Salon Educators, assisting with our apprentice training program and advanced classes. She is also a certified Wella color educator. An all-around talent, she loves both coloring and cutting equally. When she's not teaching other stylists, Becky stays on top of the latest trends and techniques by attending classes in various cities from Los Angeles to New York. Becky is also one of our bridal experts and is one of our go-to bride stylists.
• She can't live without mascara
• Pizza and wine are her favorite vices
• Costa Rica and Connecticut are her vacation spots
HAIRCUT & BLOWDRY $85
COLOR $80+
HIGHLIGHTS $150+

THURS  10:00 AM – 6:30 PM
"I normally go to a hairdresser in California to get my hair trimmed and dyed. I have always had really long hair, but I decided a few months ago that I wanted it short. I knew I wouldn't be in LA so I had to find someone out here. I found Rumors on Yelp and researched the website and the stylists. I picked Becky to do my hair and went in with a few photos of haircuts and colors I wanted. Becky explained to me what she would do to my hair and gave me some alternatives to the hairstyles I originally wanted. She was nice and talked me through the process during dying, cutting, and styling.
Long story short, after cutting 8 inches and dying my hair a dark brown shade, I can now say that I am completely satisfied with my trip to Rumors. I love my short hair and have already gotten so many compliments on it! I feel more mature and it is so much more low maintenance. Thanks Becky! You're the best! I'm definitely making Rumors my regular salon here in Arizona."