Permanent wave service unlike any other.
Rumors uses the latest in hair technology to give you soft, natural-looking waves.
The American Wave and Keune products we use far surpass previous treatments of its kind. Best of all, they are not harsh or harmful to your hair.
Our stylists have more control over your finished look through several different techniques for born-this-way, voluminous waves!
OUR WAVY HAIR
SPECIALISTS
Our stylists are certified in American Wave and Keune permanent wave processes. They can help you acquire gorgeous, beachy waves while keeping the integrity of your hair as their top priority.
AMERICAN WAVE BY ARROJO $250+
KEUNE KERATIN CURL OR VOLUME $250+
CLASSIC WAVE$150+
WAVE TREATMENT BEFORE & AFTER PHOTOS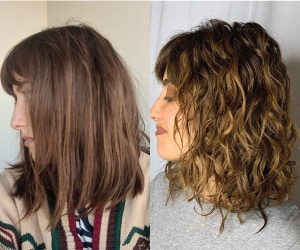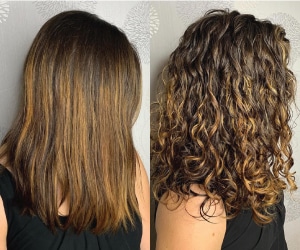 EXPERIENCE FULL, VOLUMINOUS HAIR
How long will a permanent wave service last on my hair?
An American Wave Service is perfect for a client who is looking for a low maintenance kind of permanent wave treatment. Because of the gentle nature of the formula, the waves will slowly and naturally loosen out of the hair after a few months of wear allowing for less commitment than a traditional permanent or "perm".
What is the maintenance and care of getting a wave service?
Maintaining your professional beachy waves is fairly simple. Be aware that you will need to wait 48 hours after your service to wash your hair.
We like using sulfate-free shampoo/conditioner to maintain the health and texture of your hair. Brushing wavy or curly hair when it is dry is not recommended so we suggest using a wide-tooth comb when your hair is wet to detangle. When you can't let your hair air dry naturally, it's a good idea to use the diffuser attachment that comes with most blow dryers. You can also use a variety of stylist approved products like defining cream or a light gel to help achieve your desired look. Our stylists are happy to customize product recommendations for your specific hair type.
How is your wave service different than a standard permanent or "perm"?
The difference between a permanent wave service from Rumors Salon and your standard perm is all about customization. The results of a wave service from Rumors are much more subdued than your typical 80's blowout. When you think of a standard perm, what comes to mind is curly, frizzy ringlets. With this, your hair will have more of a soft body wave. Basically, the perfect beachy waves without the salt and sand!
How do I know if a permanent wave service is right for me?
Clients with all hair types, whether it be curly or straight, are eligible for a wave service. However, this treatment is not suitable for bleached hair or heavily highlighted hair. A consultation is always recommended especially for anyone with lightened hair so be sure to consult with your stylist or give us a call.
How Much Does a Keratin Treatment Cost?
The average starting price for a classic wave service is $150+. Keune and American Wave services start at $250+.
Pricing with professional wave services are just like other salon services, it is dependent on the length and density of your hair.