A visit to Rumors Salon is more than just an appointment – it's a beauty experience that is all about you! We are known for producing gorgeous looks in a friendly, unpretentious environment. Browse our salon services including hair, makeup, nail, and hair-removal services.
Hair is shampooed, conditioned, cut, blow dried and styled
Hair is shampooed, conditioned, and cut
Hair is shampooed, conditioned, blow dried, and styled.
+$10 for iron work
Color is applied to the band of new growth to match existing color on midshafts/ends of your hair
CORRECTIVE COLOR
$upon consultation
These appointments are usually results from at home color, waiting a longer period of time since your last coloring appointment, or wanting a change in colors more than 3 levels of current hair. These appointments often take multiple sessions to achieve the desired result.
HIGHLIGHTS / FOILING
$99+
This term refers to lightening certain parts of the hair. There are many techniques that determine the size of the highlights, the level of contrast, and tone as well.
The placement is concentrated on the crown of the head and usually around the face.
This placement consists of not only the crown, but the full head including the back.
BALAYAGE / HAIR PAINTING
$165+
This coloring technique is usually done by free-hand painting color or lightener. The results are a soft and natural looking "sun kissed' look. This service can be processed in or out of foil.
BLEACH & TONE / DOUBLE PROCESS
$150+
No more than ¾" of regrowth. Anything longer will result in gold banding and will be considered corrective color.
TAPE IN, HAND TIED, BONDED OR VARIOUS METHODS
$upon consultation
AMERICAN WAVE
$275+
KEUNE CURL OR VOLUME
$250+
CLASSIC WAVE
$165+
This is a smoothing treatment, not a straightening treatment. The Keratin treatment eliminates frizz, increases manageability, repairs damage, and leaves the hair noticeably softer with luminous shine.
ORIGINAL TREATMENT
$385+
EXPRESS TREATMENT
$150+
MANICURE
$30
GEL
$48
FILL
$50
PEDICURE
$60
FULL MAKEUP
APPLICATION
$200+
BRIDAL HAIR
$125+
BRIDAL NAILS
$30+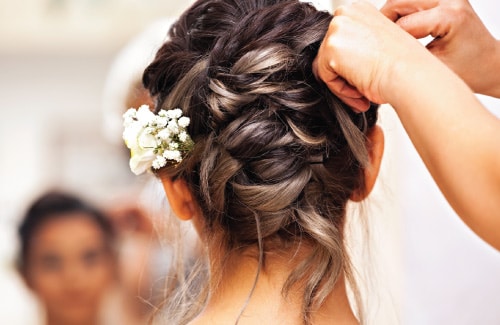 EYEBROWS
$20
UPPER LIP
$12
CHIN
$12
FULL FACE
$32
EYEBROWS
$15
UPPER LIP
$8
CHIN
$8
STYLISTS
FOR ALL KINDS
OF BEAUTY
Explore the latest hair trend or just come in to maintain your regular cut and color. Whatever your beauty needs, there is a Rumors stylist who is perfectly suited to compliment your individual style.