Looking to dramatically change the length and volume of your hair in one visit to the salon?
Hair extensions from Rumors Salon are the secret!
Our stylists specialize in applying all types of hair extensions to achieve a fresh style that is effortless and natural-looking.
OUR HAIR EXTENSION SALON SERVICES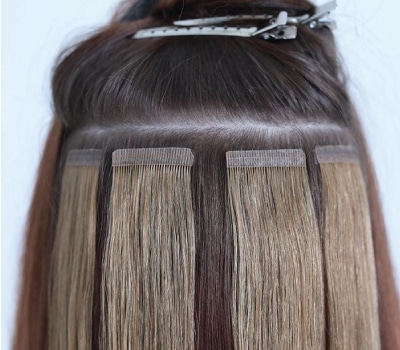 Tape-in hair extensions use medical-grade adhesive tape gently placed at the root of your hair. With proper care, this type of extension can be reused multiple times. This method is a great introduction to hair extensions and a quick, easy way to change up your style for a special occasion.
HAND-TIED / BONDED
HAIR EXTENSIONS
Hand-tied and bonded hair extensions are semi-permanent and cover more surface area. These techniques use your natural locks to build in layers across your head.
The extension is then sewn or bonded onto your hair using a safe heating element. Strand by strand extensions like these last longer in your hair, especially with proper maintenance appointments to move the extensions up as your hair grows.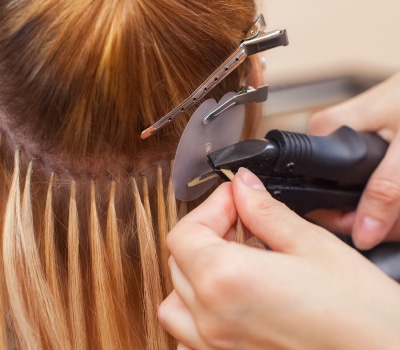 OUR BELLAMI
CERTIFIED
SPECIALISTS
Enhance your hair in a way that still looks natural. Our talented team of hair stylists are ready to assist in creating the look you've been longing for!
Speak with an expert who can help you determine the type of extensions that fit your lifestyle and help you achieve the look you want.
$50 consultation fee (applied towards hair purchase) non-refundable
BEFORE & AFTER
HAIR EXTENSIONS
Increase thickness, add length or give yourself highlights without having to color your own hair. The possibilities are endless!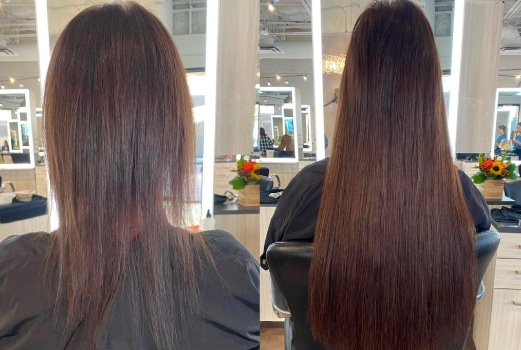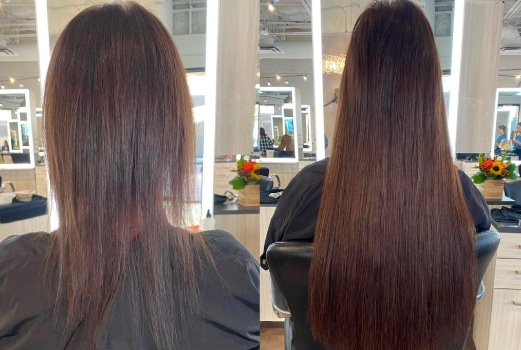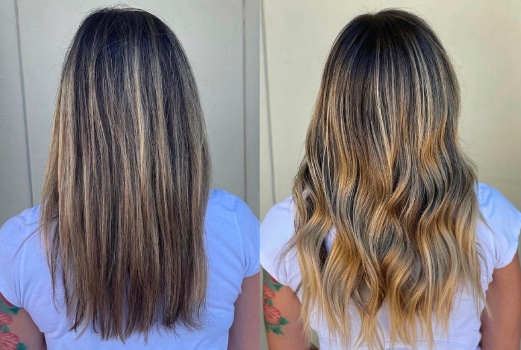 What are the benefits of getting hair extensions?
Hair extensions are primarily used to add length and volume to your hair in what seems like an instant. They can also be used to add pops of color or fill in thinner areas where you may be lacking hair growth.
What is the maintenance and how long do hair extensions last?
The maintenance and longevity of your hair extensions will depend on the type of extensions you choose. You will likely be able to use your regular shampoo and conditioner when washing as long as you are gentler when scrubbing your scalp and roots. Using less heat and product is also recommended.
How long does my hair have to be to get extensions?
Our stylists want your hair extensions to be as natural-looking and fabulous as you are. We don't recommend hair extensions for clients with chin length or shorter hair. Natural hair that is too short can be difficult to blend with the extensions making them more noticeable. Clients with textured or curly hair may also have a difficult time finding a match for their hair-type giving the extensions a less than desirable appearance.
Can I color my hair extensions?
At Rumors, we can darken hair extensions but we cannot lighten them. Coloring or lightening hair extensions is not recommended by the manufacturer. Our expert stylists are here to assist you in choosing the perfect color to match or enhance your hair color.
How much do hair extensions cost?
The cost of hair extensions depends on a number of factors including length, color, method, and hair type. We require a consultation for any client looking to explore hair extensions. It gives you and your stylist an opportunity to discuss the right fit for your style and budget. Visit our individual stylist profiles for more pricing information.
What kind of hair extensions does Rumors Salon use?
How soon should I book a hair extension appointment before an event?
If you're getting ready for a special occasion like a wedding or prom, we recommend testing out your hair extensions at least two months prior to the event. That way you are able to get familiar with how the extensions look and feel in your hair. It also allows your stylist enough time to make any adjustments before your big day.