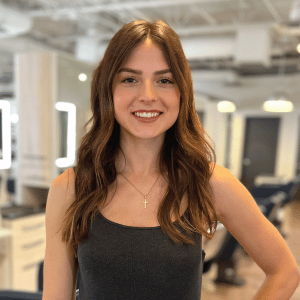 Growing up in her mom's salon, Cayla knew she was destined to become a stylist herself. She loves prevision haircuts and transformative color changes. She is also skilled in makeup applications and enjoys giving her clients a whole new look.
• She enjoys hiking and other outdoor activities
• She has a love for acrylic painting
• Her favorite food is pasta
BALAYAGE
SHORT HAIR
EXTENSIONS
HAIRCUT & BLOWDRY $72
COLOR $88+
PARTIAL HIGHLIGHT $115+
FULL HIGHLIGHT $140+
HAND PAINT / BALAYAGE $185+
BLEACH & TONE $175+
Cayla is available at the Seville location through February 5th and will be moving to the DC Ranch location starting February 6th.