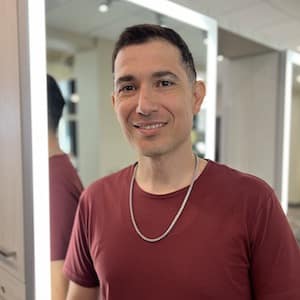 Omar studied at Artistic Beauty and has received lots of additional training throughout his career, including Aveda's Razor Cutting and Distribution of Weight training, Vidal Sassoon Creative Cutting, Toni & Guy Basics Cutting plus their Graduation Skills course, Goldwell Modern Barbering training, and color theory and placement courses with Goldwell and Aveda (to name a few). He is a two-time nominee of the Arizona Foothills Magazine "Best in the Valley" in the hairdresser category, which he feels humbled to have earned. He takes pride in cutting precise hair that looks natural while maintaining the structure of the hair's shape. He loves color placements that showcase his clients' face shape while finishing it all off with a beautiful blowout.
In his free time, Omar builds classic-era Fords. He and his wife love to cook together, and they dream of continuing to fulfill their own career goals while keeping unity in their family and their faith.
Loves shoes and hats
Is currently working on building a 1933 Ford
Makes a mean sandwich – think melted brie, raspberry preserves…the works.
HAIRCUT & BLOWDRY $95
COLOR $100+
PARTIAL HIGHLIGHT $140+
FULL HIGHLIGHT $165+
HAND PAINT / BALAYAGE $200+
BLEACH & TONE $200+